Our Pedigree Hereford and Angus are backed by detailed knowledge of each mother, their families and their production.
Additionally, there is a meticulous selection of the sires that join the herd.
A very strong pressure in the process of selection, with functional and phenotype evaluations, complemented with performance data and beef trains translated into EPDs, the use of the best reproduction tools, 
including deep embryo transplant, guarantee consistency in our production.
And last but not least, top available technology in terms of nutrition, health conditions and management, including the advice of top level professionals specialized in each breeding area.
We have been breeding our cattle over the past 30 years with a sustained focus on the selection of our Grade up herd wich is our major pride today and an example of strong response to a highly challenging demand.
Breeding stock with PEG data – Hereford Genetic Evaluation Program – including carcass evaluation, to permit an accurate forecast of the quality of their offspring.
Our dams are mostly sired by our Grand Champions that produce bulls that are heavy, easy to manage and functional, and females that are highly appreciated by our buyers; proof of this are the highest sales averages we have attained every year throughout the main breeds.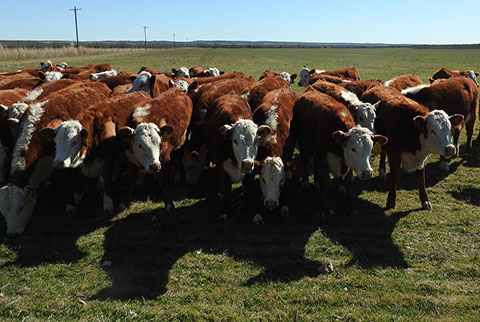 In 2006 we started breeding Angus Grade up by acquiring a relevant set of females from top-level ranches.
We chose some of the best sires such a Zorzal, General, Condor, Quebrantador, Sacarías II, Raúl and we incorporated their calves to the ERA Program – Angus Breeding Stock Evaluation -.
This enables us and our buyers to select future sires and dams with reliable information.
To date, results in Angus auctions have been extremely encouraging.